Vietnam and South Korea level up comprehensive strategic partnership
06/12/2022 l 15:33
The Comprehensive Strategic Partnership is opening a new stage of development for the relationship and investment opportunities between Vietnam and South Korea.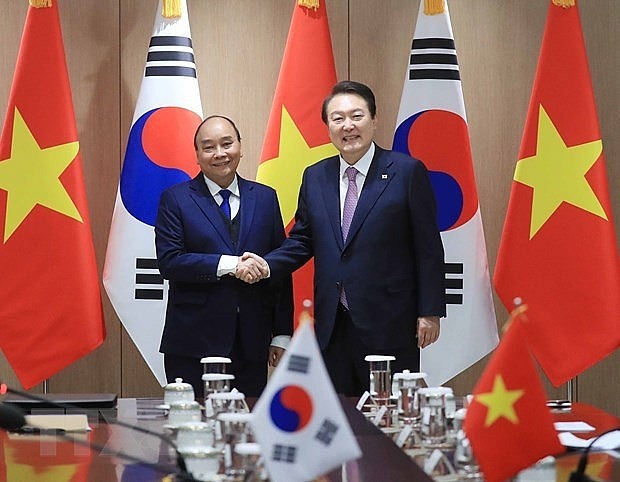 The upgrade was announced by Vietnamese State President Nguyen Xuan Phuc and his South Korean counterpart Yoon Suk-yeol at a press conference in Seoul on December 5.
"On behalf of the two countries' leaders, President Yoon and I decided to upgrade Vietnam-RoK ties to a comprehensive strategic partnership. I believe that with the determination of leaders and people of the two countries, the comprehensive strategic partnership will take bilateral ties to new heights," said President Phuc.
President Phuc expressed his belief that the comprehensive strategic partnership will bring bilateral cooperation to a new level of development for the benefit of their people, making positive contributions to peace, stability, and the development of the region.
He suggested measures to implement the comprehensive strategic partnership including maintaining regular high-level exchanges.
Reviewing 30 years of diplomatic relations, the two leaders agreed that the Vietnam-South Korea collaboration has rapidly achieved broad and meaningful growth milestones. Since establishing the strategic partnership in 2012, both countries have emerged as important partners for each other.
They reaffirmed the goal of lifting two-way trade to $100 billion by 2023 and $150 billion by 2030 in a more balanced manner. Vietnam welcomes South Korean investors, who have poured $80 billion into Vietnam so far, expanding operations in the country and transferring technology for electronics, infrastructure, hi-tech building and green industry complexes, and smart urban development.
The Vietnamese leader also thanked South Korea for providing aid and preferential loans for Vietnam in disadvantaged areas. The two sides agreed to continue ensuring favourable conditions for Vietnamese people in South Korea and vice versa.
President Yoon said South Korea wants to cooperate with Vietnam on advanced technology and stabilise supply chains. Both sides realise the great potential for cooperation in exploiting rare earth in Vietnam.
President Phuc is on a three-day state visit to South Korea, which will conclude on Tuesday. On behalf of Vietnamese leaders, President Phuc cordially invited the President of South Korea to visit Vietnam as soon as possible.
During the visit to South Korea, Phuc met with many leading South Korean corporations investing in Vietnam, including CJ, Lotte, LG, Daewoo E&C, Hyundai Motor, and others. He reaffirmed that Vietnam was committed to creating the best environment and infrastructure for investors when doing business in the country.
By Nguyen Huong
Source: VIR
Original link