Long An province and Dong Tam Group work with Japan's Mitsui E&S Machinery
08/09/2022 l 09:49
Leaders of Long An province and Dong Tam Group from September 4 to 10 had a working session with Japan's Mitsui E&S Machinery to promote bilateral investment between Vietnam and Japan.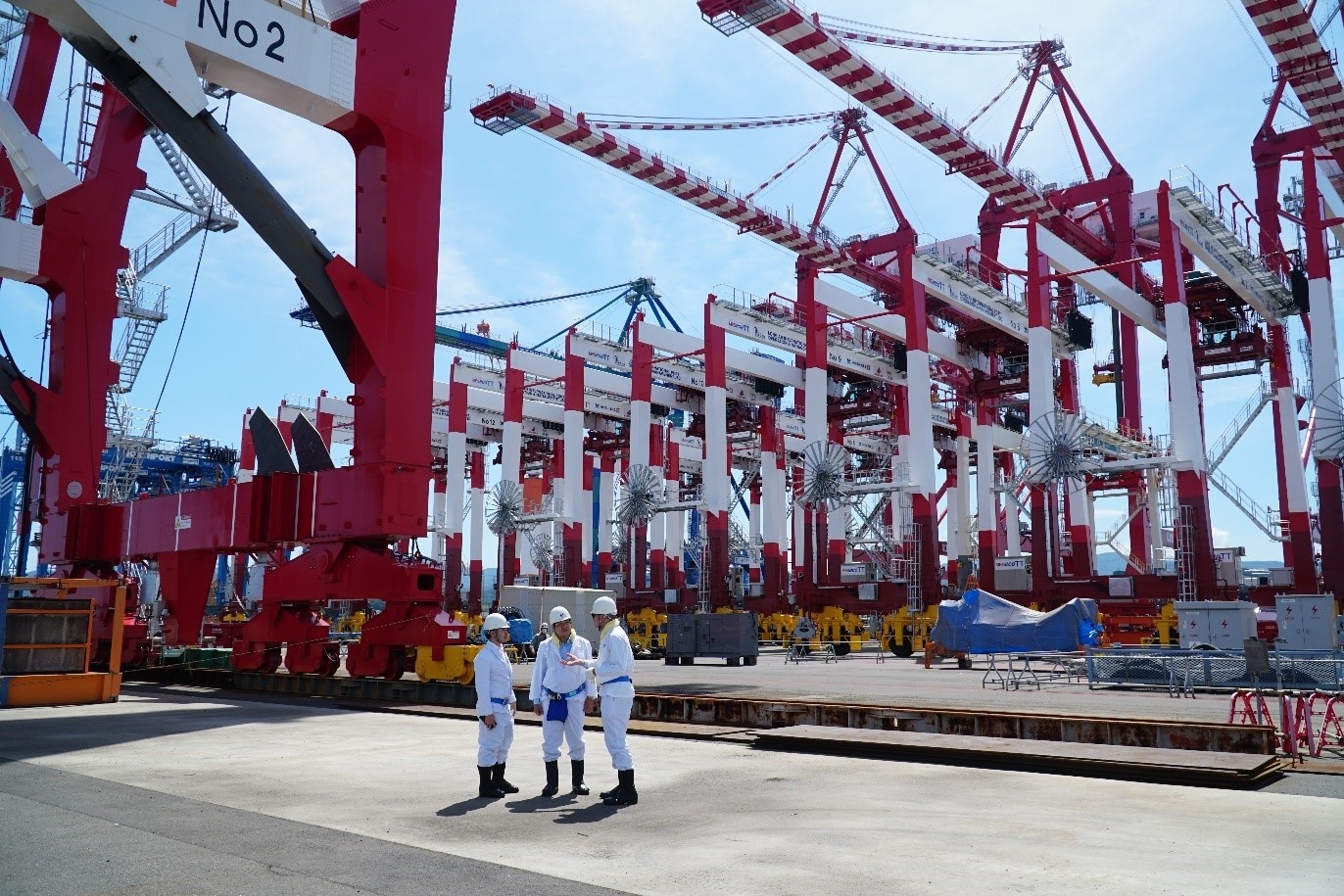 A delegation led by leaders of Long An Province, Dong Tam Group, and Long An International Port has joined a working session with the representative leader of Mitsui E&S, a subsidiary of Mitsui Group.
The delegation has visited Mitsui E&S Machinery Factory in Oita, Japan to survey the manufacturing progress of 24 world-class container cranes including six ship-to-shore cranes and 18 rubber tyre gantry cranes, which will be completed and ready to be shipped to Long An International Port in October.
The cranes are in the final stages of development before being shipped to Vietnam
At the factory, Nguyen Minh Lam, standing member of the Provincial Party Committee and vice chairman of Long An Provincial People's Committee shared, "At the end of 2021, Long An province awarded Dong Tam Group with a certificate of merit titled Pioneer in Digital Transformation. The recognition was a testament to the group's significant investment efforts to expand operations based on the application of new technology and multiple proposals to promote economic development, increase labour productivity, and diversify services."
Leaders of Long An Province, Dong Tam Group, Long An International Port, and experts of Mitsui E&S at the final construction area
Long An International Port is a crucial project that will attract further investment in Long An province. The port is expected to offer huge support to companies in the Mekong Delta as a centre for the import and export of goods in the southern region. Therefore, Long An province aims to transform this international port into an ideal destination for investors.
The port is designed as a harmonious combination of a seaport service complex with an industrial park, a service zone, an urban area, and other projects. The port is expected to add value to customers and contribute to the formation of a multi-purpose and modern seaport city complex.
The development of the port is on the right track amidst the rising global demand to strengthen supply chain resilience, boost logistics automation, and last-mile delivery. The port also features a container bus shuttle which will bring practical value to businesses in the area by reducing logistics and product costs while increasing competitiveness and global integration.
Nguyen Minh Lam, member of the Standing Committee of the Provincial Party Committee and vice chairman of the Long An Provincial People's Committee, presented a painting to the representative of Mitsui E&S
As part of the Dong Tam Group, a prestigious brand with over 53 years of successful growth, Long An International Port is operated and developed by a young, professional, and dynamic team striving to expand the port logistics business in the Mekong delta region rapidly.
Long An International Port aims to become one of the leading, internationally recognised ports of choice in Asia by providing safe, modern, integrated, end-to-end supply chain services including warehousing, bulk cargo handling, business parks, freight forwarding, and other full-service logistics products.
Most importantly, Long An International Port will provide a full suite of container handling services in the second quarter of 2023 with the addition of two new container berths, six quay cranes, and nine yard-blocks (including reefer capacity) able to handle over 500,000TEU annually, thus putting Long An International Port firmly on the regional, national, and international supply chain and logistics stage.
With unwavering support from Long An International Port's shareholders, a customer-focused way of working and an organisational culture with strong values, Dong Tam Group expects to achieve success through investing in and providing opportunities for growth in the safest, most environmentally friendly, and sustainable way.
Long An International Port aims to become one of the leading, internationally recognised ports of choice in Asia
Thanh Van
Source: VIR
Original link