Indian conglomerate Adani Group commits $10 billion to propel expansion in Vietnam
26/05/2023 l 10:47
Vietnamese Prime Minister Pham Minh Chinh held a formal meeting with the CEO of Adani Ports and Special Economic Zone - a prominent subsidiary of India's Adani Group – Karan Adani on May 24. This high-level encounter shed light on compelling investment opportunities and potential collaborations, signalling an exciting chapter of economic growth for both nations.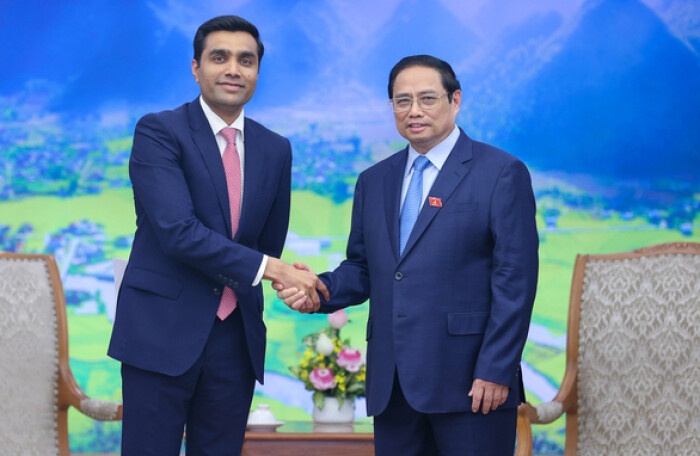 Driven by an ardent pursuit of progress, Vietnam warmly welcomes partnerships with esteemed allies such as India, recognising the invaluable role of infrastructure development.
PM Chinh expressed great enthusiasm for Indian investments in Vietnam's strategic infrastructure domains, encompassing transportation networks, energy facilities, digital infrastructure, and climate resilience.
Adani lavished praise on Vietnam's far-sighted national development strategies. With a formidable presence across more than 50 countries, the Adani Group stands as India's preeminent conglomerate, renowned for its exemplary operations in port management, logistics, energy, and digital technologies.
He also noted that the Adani Group expressed their keen interest and commitment to investing long-term in Vietnam after thorough research and an evaluation of the opportunities. The total investment is estimated to be around $10 billion, spanning not only the fields of ports and logistics but also energy and digital technology.
The Indian group aspires to spearhead the creation of eco-friendly port systems and infuse substantial capital, amounting to an estimated $3 billion, into wind and solar power projects in the nation. Such investments align seamlessly with Vietnam's well-crafted development strategy.
The PM reaffirmed that the Vietnamese government stands resolute in its determination to expedite investment projects and foster the growth of Indian enterprises within Vietnam's borders.
He also underscored the country's immense potential in terms of maritime transport, the development of vibrant port ecosystems, and the harnessing of renewable energy sources, particularly wind and solar power.
PM Chinh extended a warm welcome to Adani's initial focus on the Lien Chieu Port area in the coastal city of Danang, alongside other renewable energy initiatives.
"The Vietnamese government remains steadfast in its commitment to facilitating the conditions to enable the Adani Group to explore additional ventures within Vietnam, thereby leading the charge in attracting more Indian investors to the country," he said.
"The alignment of Adani's green port initiatives and renewable energy projects with Vietnam's sustainability goals underscores the shared commitment towards a greener and more environmentally conscious future," the PM concluded.
By Nhat Minh
Source: VIR
Original link