Hana Micron Vina launches pioneering semiconductor factory in northern Vietnam
18/09/2023 l 10:41
Deputy Prime Minister Tran Luu Quang launched the Hana Micron Vina semiconductor plant in Bac Giang, a pioneering project with future plans to invest over $1 billion and create 4,000 jobs by 2025.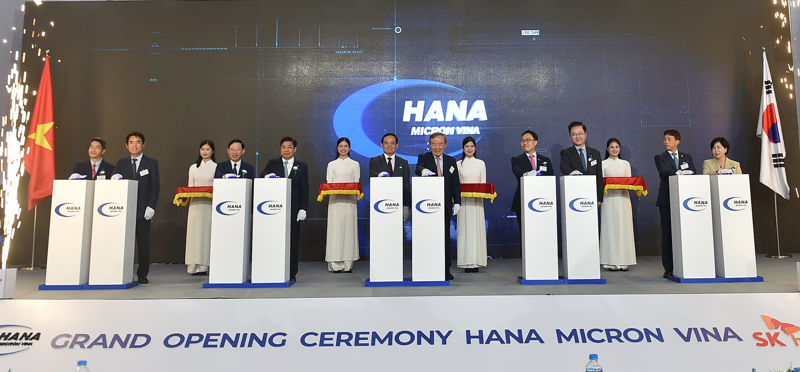 Vietnam's Deputy Prime Minister Tran Luu Quang on September 16 officiated the inauguration of the Hana Micron Vina semiconductor manufacturing facility, marking a significant milestone as the region's first semiconductor project, located in Van Trung Industrial Zone.
Hana Micron Vina, a South Korean manufacturer, specialises in the manufacturing and processing of integrated circuit boards, pivotal for mobile phones and other advanced electronic products. The company has committed an investment nearing $600 million. The factory's phase one has been operational since November 2020.
Choi Chang Ho, chairman of Hana Micron Vina, revealed ambitious growth targets. "By 2025, we aim to elevate a total investment to over $1 billion, with anticipated revenues of approximately $800 million, thereby generating employment opportunities for over 4,000 Vietnamese," he said.
He went on to highlight the pivotal role of the Vietnamese operation in Hana Micron's global business model.
"Hana Micron Vina in Vietnam is poised to become the top manufacturing facility in Hana Micron Group's global business operations. Significantly, the talent pool in Vietnam is anticipated to constitute a staggering 70 per cent of the total workforce," Choi said. According to the company's projections, revenues this year are expected to touch $300 million.
Choi elaborated on Vietnam's potential in the semiconductor domain, emphasising the importance of human capital.
"A key factor that enabled South Korea to emerge as a semiconductor powerhouse has been its exceptional talent pool. I firmly believe that with its diligent and exceptional workforce, Vietnam will rapidly establish itself as a pivotal nation in advanced industries," he said. "Hana Micron Vina is committed to nurturing Vietnam's brightest young minds, ensuring they ascend as highly-skilled professionals in the semiconductor sector."
Bac Giang has become an increasingly attractive destination for foreign direct investment (FDI), particularly from South Korea.
Le Anh Duong, Chairman of Bac Giang People's Committee said, "With 345 projects, South Korea currently leads in the number of projects and ranks second in terms of total registered investment capital in Bac Giang."
South Korean businesses constitute about 25 per cent of the total industrial output value of foreign-invested enterprises across the province. Moreover, over 1,200 South Korean professionals and workers in Bac Giang have significantly influenced the local economy, introducing modern technologies, management styles, and professional work ethics.
The expansionary initiatives of Hana Micron Vina, elevating its project investment capital to nearly $600 million, positions it among projects with the highest investment per hectare - approximately $90 million per hectare. This is nearly eight times the average capital of foreign-invested projects in local industrial zones.
Bac Giang recognises the profound economic and societal importance of Hana Micron Vina's venture, and its inauguration marks a defining moment for the region. The successful implementation of this project will lay the foundation for the development of a semiconductor manufacturing ecosystem in Bac Giang and the broader northern region, offering further opportunities to draw in more high-tech projects in alignment with the government's investment policies and direction.
By Trung Duong
Source: VIR
Original link