Foreign Investors Confident about Investment Prospects in Vietnam
02/09/2022 l 21:18
Given that global FDI inflows have decreased on recent world developments such as the Russia-Ukraine conflict, supply chain disruptions and high inflation, Vietnam is still considered an attractive investment destination thanks to its strong economic potential and friendly investment environment.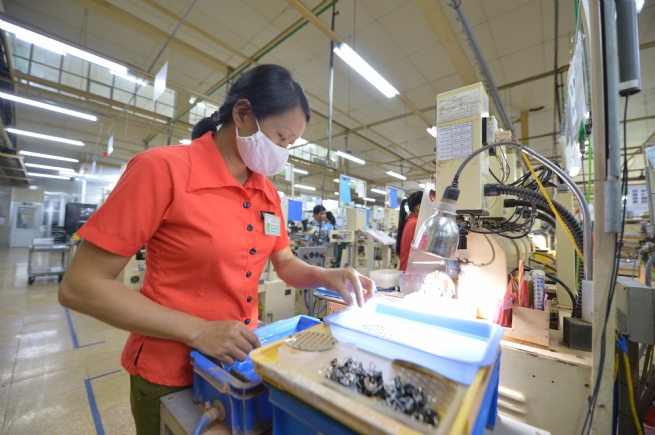 According to the Foreign Investment Agency (FIA) under the Ministry of Planning and Investment, foreign investment projects disbursed US$12.8 billion in the first 8 months of 2022, up 10.5% year on year. This showed foreign investors' confidence in investment prospects in Vietnam in the coming time.
Believing in Vietnam's friendly investment environment and bright economic prospects as well, Chairman of the Korea Federation of SMEs Kim Ki Mun said Vietnam is the 15th most populous economy in the world; its education is characterized by enthusiasm and diligence; and its GDP expanded 2.9% in 2020 and 2.6% in 2021 despite the COVID-19 crisis. Domestic market development conditions, production infrastructure development, excellent human resources, business-friendly government policies and cultural familiarities are its advantages over competing countries and make foreign investors, including South Koreans, choose Vietnam as an investment destination.
The Asian Development Bank (ADB) also kept its forecast for Vietnam's growth this year unchanged at 6.5% while lowering its growth forecast for Asia to 4.6% from 5.2% previously. Factors such as continued trade expansion, a faster-than-expected manufacturing recovery, domestic mobility and public investment disbursement are seen as growth drivers.
VinaCapital Chief Economist Michael Kokalari, in an article on Vietnam's macroeconomics, also made an optimistic statement about Vietnam's GDP growth when he said that Vietnam's GDP increased sharply in the second quarter of 2022 and was expected to skyrocket in the third quarter of 2022 at a double-digit pace of 10% from a year-ago period, driven by continued growth of domestic consumption.
The open environment as well as strong remarks by financial institutions on Vietnam's economic growth prospects are strengthening the confidence of foreign investors that are pouring capital into Vietnam.
Onaga Masaru, President of Onaga Company (Japan), said the Vietnamese market has strong potential. Currently, Vietnam annually imports about US$100 billion of components for cars, motorcycles and machinery of all kinds. For this reason, Onaga decided to invest in Vietnam. Onaga's factories that manufacture aircraft components, products for aerospace, aircraft, ships, shinkansen trains and automobiles will be put into production in 2023.
Jinko Solar, one of the world's largest and most advanced solar panel producers, decided to invest nearly US$50 million to build more warehouses in Song Khoai Industrial Park (Quang Ninh province) and a social housing project in Dong Mai ward, Quang Yen town, for workers in Song Khoai Industrial Park.
Stavian Quang Yen Petrochemical Joint Stock Company also pledged to invest US$1.5 billion in DEEP C's Bac Tien Phong Industrial Park to launch its polypropylene (PP) production project. Vietnam Investment Q Limited Company recently signed a landholding agreement (7.6 ha in Lot CN5 of Bac Tien Phong Industrial Park) with DEEP C to build and develop high-quality, modern ready-built factories and warehouses, which cost estimated US$23.9 million of investment capital.
The Vietnamese government recently announced a plan to reach a higher level of development by 2045 on the 100th anniversary of national founding and become one of advanced high-income countries with a GDP per capita of US$10,000. With investment incentives offered by the Government of Vietnam, support of industrial parks to streamline project licensing and business establishment procedures, many companies are confident that Vietnam will really be an attractive investment destination for foreign businesses.
Giang Tu
Source: Vietnam Business Forum
Original link